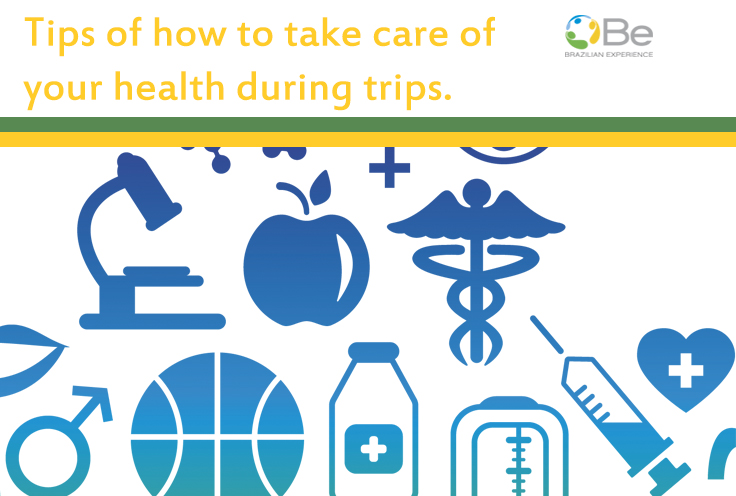 Tips of how to take care of your health during trips.
It's usual while traveling or living abroad for our body to be more vulnerable and more exposed to a number of different things, such as, climate change, different types of flu and diseases in general.
If you would like to be a prepared traveler and don't be surprised during the time you are on your journey, read some tips we selected for you.
First of all, get to know the places you are traveling to:
– Select important info about your destiny;
– Check hospitals or places for emergencies near your accommodation;
– Check health services, at least a few weeks before traveling.
Don't be reckless!
– Avoid traveling if you are already sick or with some kind of illness;
– Update your vaccine card and check if you are going to need it while abroad.
Protect yourself!
– During long trips of buses or airplanes, avoid staying a long time in the same position. Stretch yourself;
– Avoid being exposed to the sunlight from 10AM to 5PM.
Personal hygiene:
– Always wash your hands with soap and water along the day;
– Cover your nose and mouth while coughing and sneezing;
– Avoid eating at places with doubtful hygiene.
Don't put yourself in risky situations!
– Against DSTs – always wear protection (condoms);
– Get to know the person you are having relations with.
When you return
– There are diseases that will only show signs after you return. If that happens, look for a health service and tell your doctor about the trip. The information you will give to him/her can help on the diagnosis.
Overall, there are not many things to worry about, just be careful with yourself and respect your limitations in different situations and more important, enjoy your trip.