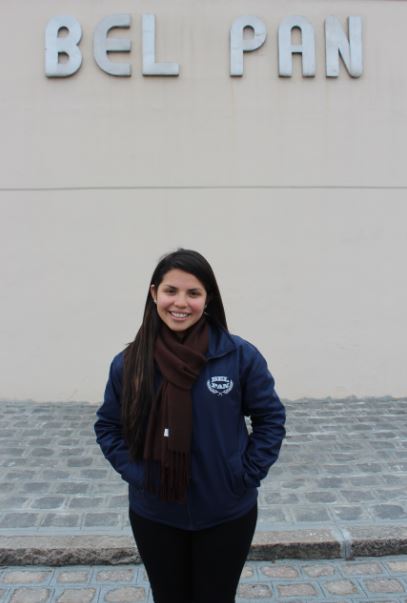 Last July we received Jaqueline Martinez, an American student of Industrial Engineering at Texas Tech University, place that requires that the students study abroad in order to graduate. Here in Brazil she interned at Bel Pan, a food production company specialized in bakery, based in Curitiba. During her internship, she helped them to optimize internal processes, helped with solutions to reduce wastes of production and learned useful skills for her professional future.  
Now that she finished her exchange program, we met with Jaqueline to learn more about the experience she had during her staying in Curitiba, you can watch her interview or check it out below:
What has the experience added to your resume?
My personal experience from interning abroad I feel like it is gonna make me definitely stand out from the other people I will competing with when I go back to the United States, I'm gonna be competing for a industrial engineering job, now I know that I would like to focus on production engineering.
Can you describe the changes you noticed on yourself?
I feel like I have grown a lot, because now I have a better notion of what Industrial Engineering is and not only that, but I feel like that talking with Gerson I learned a bit of what is like to run a company.
Do you feel like you grew as an individual?
In terms of personal growth, not only I'm more ready, but I also know that if a company wants me to go abroad and develop relations with other companies, I know that I'm able to do that because I was able to do that here.
Any advice for students willing to join the same experience?
I would say come here with an open mind and you have to be aware that what is not normal to you is very normal to people here so you cannot compare and have this expectations that you gonna live like a king or a queen whether you're rich or not in the United States or wherever you're coming from. You have to come here and not only be open minded but also be willing to interact with people, be willing to become part of the culture, whether you speak the language or not.
We also interviewed Gerson Vasselai  from Bel Pan, to know how was the experience of receiving Jaqueline in the company and luckily we received a positive answers from him:
How was the experience of having Jaqueline in the team?
Jaqueline was very focused on her work here, she added value to our team, brought unique experiences and already had knowledge of some tools we use here. She is a dynamic person, always willing to bring results, plus she is also always open to learn new experiences, fix eventual mistakes and even question some procedures and actions in order to achieve a positive results.
What goals you expected to achieve with this experience?
Our biggest goal was to have this exchange of culture, information, different realities that allowed us to improve languages and indentify failures on our productive process, like reducing wastes with new approach, a younger approach.