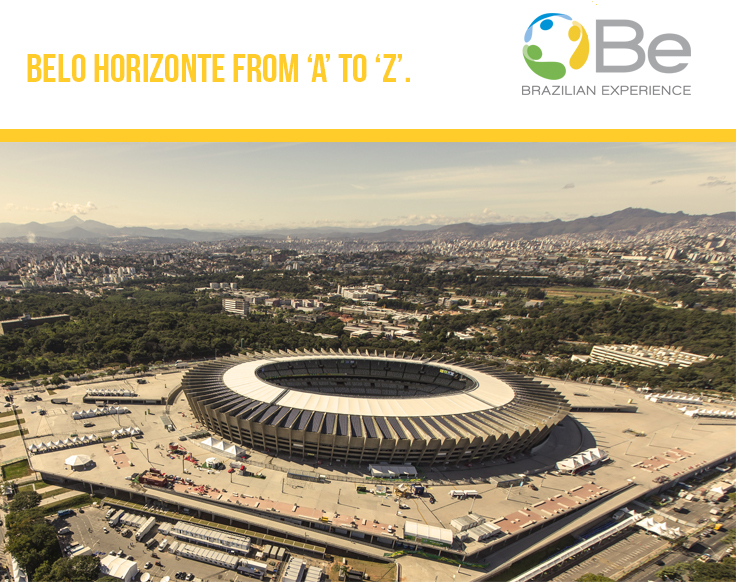 Thinking about your comfortable stay here in Brazil we collected a few informations about Belo Horizonte. If you're planning on going there, you should check some general tips and touristic places we've selected.
The City
Belo Horizonte is the capital of Minas Gerais state  and a perfect place to get to know Brazilian history. The city brings together many parts of this very diverse state, it has many cultural spots and touristic places to visit, also its architecture is a mix of classical and contemporary constructions.
Average Weather
In Belo Horizonte, the wet season is warm and mostly cloudy, while the dry season is warm, bright, and mostly clear. Over the course of the year, the temperature typically varies from 55°F to 84°F and is rarely below 50°F or above 90°F.
The warmest month of the year is January, with the average of 73,22Fº. In June the average tempeture 62,78Fº, it is the lowest temperature of the entire year.
Hospital
Hospital Mater Dei Santo Agostinho
Address: Rua Gonçalves Dias, 2700 – Santo Agostinho. Postal code – 30140-082.
Phone: +55 (31) 3339-9000
Places to visit in Belo Horizonte
Pampulha Lagoon (Lagoa da Pampulha)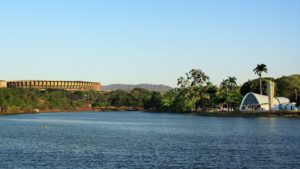 A large lagoon constructed in 1940. Pampulha is completely man-made, although is very natural in its appearance. Many local attractions surround Pampulha Lagoon, such as Mineirao Stadium and Sao Francisco de Assis Church.
Location: South-westerly side of Belo Horizonte
Ecological Park of Pampulha (Parque Ecológico da Pampulha)
Inaugurated in 2004, the Ecological Park of Pampulha is a good location for staying outdoors, hiking and get to know a bit more of Belo Horizonte citizen.
Address: Avenue Otacílio Negrão de Lima, 7111. Postal Code – 31365-450
Phone: +55 (31) 3277-7439
Soccer Stadium – Mineirão (Mineirão – Estádio Governador Magalhães Pinto)
The soccer stadium, Governador Magalhães Pinto, also known as Mineirão, is the biggest stadium in the city and the fifth in Brazil. Its project was design by Oscar Niemeyer, a famous Brazilian architecture, and it was built between 1942 and 1944.
Address: Avenida Antônio Abrahão Caran, 1001 – São José. Postal code – 31275-000
Mines and Metals Museum (Museu das Minas e do Metal – MMM)
Launched in 2010, the museum located in the Cultural Circuit of the Liberty Square, has an important collection on mining and metallurgy documentation of the main economic operations of Minas Gerais. It's an important place to get to know the history of the state.
Address: Square of liberty – Pink building. (Praça da Liberdade – Prédio Rosa)
Postal code: 30140-01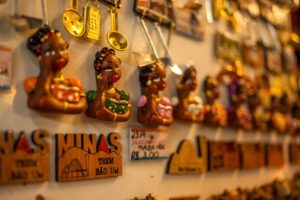 Central Market of Belo Horizonte (Mercado Central de Belo Horizonte)
Launched in 1929, the Central Market is the perfect place to find the most remarkable flavors and spices from Minas Gerais.
Address: Avenida Augusto de Lima, 744. Downtown. Postal Code – 30190-922
Phone: +55 (31) 3274-9497
Bars and Restaurants
Studio Bar
Address: Guajajaras, 842. Downtown. Postal code – 03319-000
Phone:+55 (31) 3047-1020
Info: Live music, drinks food
Nasala (nightclub)
Address: Ponteio Lar Shopping, 120 – Santa Lucia. Postal Code: 30320-901
Phone: +55 (31) 3286-4705
Info: Electronic music nightclub.
Bar de Esquina
Address: Rua Sergipe, 146. Downtown. Postal code – 30130-170
Phone: +55 (31) 3224-1772
Info: restaurant with snacks and exhibition of soccer matches on big screens.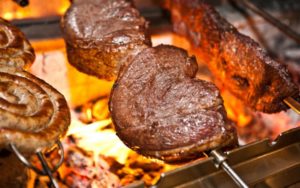 Fogo de Chão Steakhouse  (Churascaria Fogo de Chão)
Address: Rua Sergipe, 1208 Neighbourhood – Savassi. Postal code – 30130-170
Phone +55 (31) 3227-2730
Porcão Steakhouse  (Churrascaria Porcão)
Address: Avenue Raja Gabáglia, 2671. Neighbourhood – São Bento. Postal code – 30350-540
Phone: +55 (31) 3293-8787