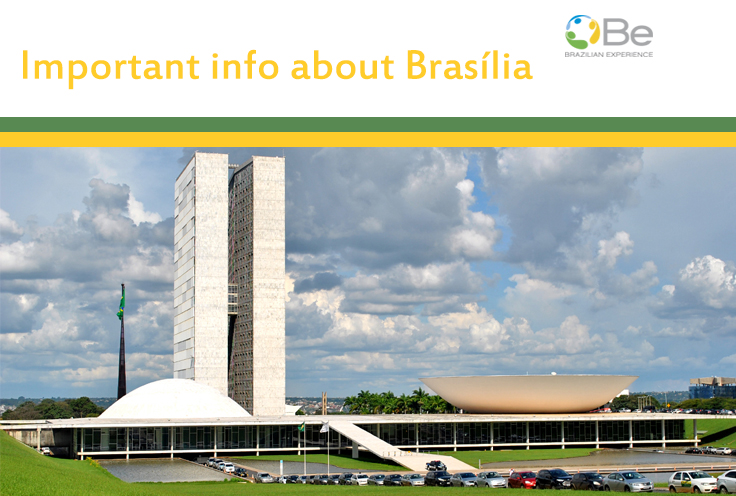 The city
Brasília is the federal capital of Brazil, where our government is at, the third most populous city in the country and the biggest city built in the XX century. 
Weather
Average Temperature
Dec/Jan/Feb – Max: 80,3ºF  Min: 63,3ºF  Ave: 72,6ºF
Mar/April/May –  Max: 80,3ºF  Min: 59,6ºF  Ave: 70,6ºF
Jun/Jul/Aug –  Max: 79ºF  Min: 53,3ºF  Ave: 66,6ºF
Sep/Oct/Nov –  Max: 81ºF  Min: 62,3ºF  Ave: 71ºF
Hospitals
Hospital Santa Helena
Address: Shln Quadra 516 Conjunto D – Asa Norte. Postal Code – 73015-132
Next to UNB – University of Brasília (Universidade de Brasília)
Phone number: +55 (61) 3215-0000
Bars and Restaurants
Boteco Bar
Address: 406 D 35 – Asa Sul, Brasília – DF, 70255-540
Phone: +55 (61) 3443-4344
Paradiso Cine Bar
Drinks and dishes named by movies names and a thematic space.
Address: Asa Sul Q. 4 b – Asa Sul. Postal code – 70353-520
Phone: +55 (61) 3526-8072
Restaurant Coco Bambu Lago Sul (Restaurante Coco Bambu)
Endereço:
St. de Clubes Esportivos Sul Trecho 2 – Nova Brasília de Itapuã, Brasília. Postal code – 70200-002.
Telefone: +55 
(61) 3224-5585
Creative recepies with a brazilian touch.
Address:
Asa Sul 210 C 18 – Brasília, DF, 70273-530
Restaurant Mangai (Restaurante Mangai)
Address: Setor Clube Sul.
Sces Trecho 2 Conjunto 26
Phone: +55 (61) 3252-0155
Places to visit
Brasília is a remarkable city, not only for it's history but also for it's arquithecture. The city was planned by Lúcio Costa, an arquithect that created the project of the city based on an aeroplane designed.
The city was buildt in 41 months and has many touristic spots for visiting and getting to know more about Brazilian culture.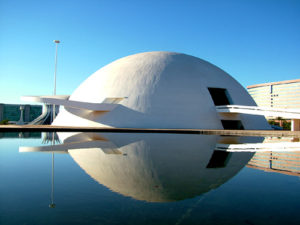 National Museum of the Republic (Museu Nacional da República)
Designed by Oscar Niemeyer, the museum is part of the "Conjunto Cultural da República". It was launched in 15th, December of 2006.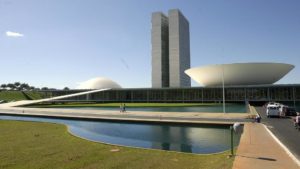 Three Powers Plaza (Praça dos Três Poderes)
Its name comes from the three powers of the law and it's where the National Congress, the Supreme Federal Court and the Planalto Palace are at.
Postal Code – 70100-000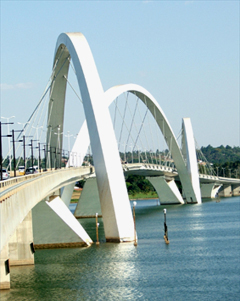 Juscelino Kubitschek Bridge (Ponte Juscelino Kubitschek)
Juscelino was a Brazilian president, from 1956 to 1961, whom was the responsible to put the project of the city into work.
Postal Code: 70297-400
Launched: December, 15th of 2002.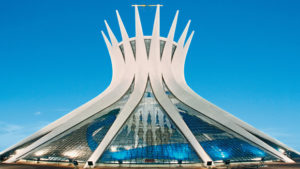 Catedral de Brasília
Address: Esplanada dos Ministérios lote 12. Postal code – 70050-000.