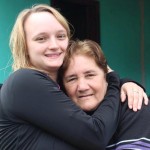 Dear Be, you have forever changed my life and will forever be a part of my heart and soul! More than anything I want to come back to Brazil to live and to work! Thank you so much and please do not lose touch with us! In such a short time you have helped me fall in love with this country. I miss you all! The colors in life look more brilliant and beautiful than they ever have before thank to you! My life is forever more vibrant thanks to you and this amazing experience! I will hold on to these memories forever! Thank you for the bottom depths of my heart and soul!

Ashley Dunham, American, Social Work Student, NMC in 2015

Wow, what an experience! Traveling to Brazil has been the time of my life. This is a trip of a lifetime, one I will never forget. I will carry these memories with me forever. Thank you Brazilian Experience!

Cheyann Stevens, American, Social Work Student, NMC in 2015