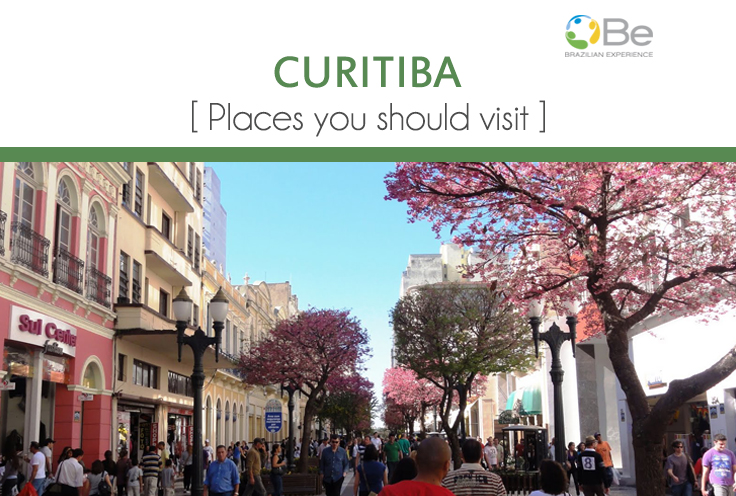 If you are a lucky person and  you are going to  Curitiba, you should know that there are many things to do in the city. To be honest, it is even a little bit unfair to limit it to a certain number of places to visit. Today we will share our personal choices of attractions in the city but keep one's eye on our blog because we will be sharing more places to visit there in the future.
Check it out:
Jardim Botânico (Botanical Garden)
This beautiful park is located at a neighborhood with the same name in Curitiba. It was created in the 90's and it was inspired by French gardens, fountains, waterfalls and lakes. Its greenhouse was inspired by the London's Crystal Palace and it is a postcard of the city which has 458 square meters and contains thousands of plants. In 2007 the Botanical Garden was the most voted place in an online election to choose the "7 Wonders of Brazil". Yearly, millions of tourists and locals visit the place.
Rua XV de Novembro (Street 15th of November)
This is one the biggest streets in the city. Located in downtown and also known as Rua das Flores (Flower's street), it is one of the first major pedestrian streets in Brazil. There are many different shops, restaurants, commercial buildings and street vendors over there. One of the highlights of this street is that you can find pretty much every kind of artistic performances such as mimes, musicians, magicians and clowns.
Museu Oscar Niemeyer (Oscar Niemeyer Museum)
Commonly known as "Museu do Olho" (eye's museum) this place was deisgned by the worldwide famous architect Oscar Niemeyer and it houses many of his works. The Atlas Obscura wrote a great definition of its architecture: " The Museu Oscar Niemeyer is precariously perched on a massive yellow 60-foot pillar. Impossibly balanced, the museum stares like a bright Cyclops out over a calm reflecting pool, greeting visitors, and daring them to circle their way into the Brazilian gallery." For architecture lovers this is the place to go and to fall in love!
Ópera de Arame (Wire Opera House)
Designed by the Brazilian architect Domingos Bongestabs, the place is a massive structured built in steel and covered with a transparent material that gives it an unique visual. To enter the place, you will need to cross a bridge over a lake (watch out if you are wearing high heels). The Opera de Arame is surrounded by waterfalls and vegetation that once were a quarry.
Praça Tiradentes (Tiradentes Square)
Located in Downtown close to Rua XV de Novembro this square is full of restaurants, shops, street vendors and buses. It is a nice place to take a walk during the day to get to know more about the historical center of Curitiba. The squares contains one Cathedral that was built in 1893  and it's a historical berth and heart just like a marker of the geodesic center of the city.