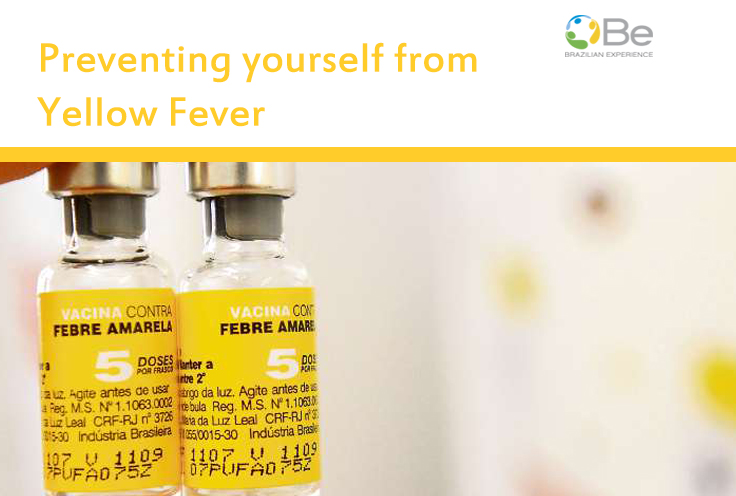 Some Brazilian states are advising foreigners to take vaccines due the yellow fever outbreak. In order to make your time here more pleasant, BE listed a few tips so you won't have any surprises by the time of travelling inside the country through different cities. But first, what is the yellow fever?
The yellow fever is an infectious disease, caused by a virus, that in the urban zone is transmitted by a mosquito named Aedes Aegypti.
Do I need to take the vaccine to travel inside the country?
There is no requirement of vaccination or prophylaxis to enter in Brazil, however, the Ministry of Health recommends that international tourists update their vaccination status before arriving in the country, at least ten days before arriving, according to the calendar of the country of origin or residence.
List of cities you will need yellow fever immunization:
The main states that are requiring yellow fever shots:
        

Minas Gerais

        

São Paulo

        

Bahia

        

Rio de Janeiro

        

Distrito Federal (Brasília – Federal District)
Where can I take the vaccine in Brazil?
If you're already in Brazil and haven't taken the vaccine, you can still do it. The Brazilian Unified Health System (SUS- Sistema Único de Saúde) is free and provides assistance to citizens and foreigners who present health issues. It also provides the yellow fever immunization, among others.
You can check the list of Health Care Centers on this link.
General precautions
Make a research about the place you will travel to and find out if there's any risk of diseases or the need of vaccines;

Avoid travelling sick;

Always bring with you, your identification documents, if possible, in English or Portuguese with your personal informations like blood type, your allergies (if you have any) or diseases that may need special attention.

You may have difficulties on finding certain types of medication during the travelling period, so it is recommended that you contact your doctor before, for information on quantities you may need during your stay.