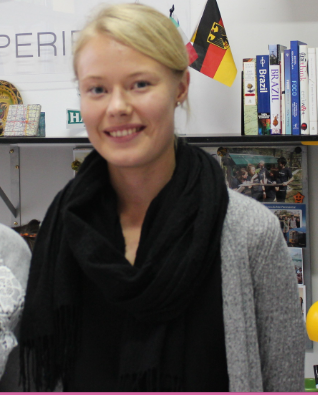 We welcomed Emmi Jelekäinen to Brazil in September.  She came to intern at the local NGO Elo Apoio Social e Ambiental, that develops social and environmental projects in Curitiba. Emmi is currently finishing her Master's degree studies in Intercultural Communication.
We interviewed her to find out what are her thoughts in the beginning of her internship. Check out what she had to say on her first days in Brazil.  
1- What do you expect/ what are your expectations for the program?
I want to learn about Brazilian culture, I want to learn what ELO does, I want to gain more professional experience and networking.
2- Why did you choose to come to Brazil?
I think that Brazil is culturally very interesting. I also had never been to South America and that is why I chose Brazil. One of the reasons was also that Brazil was one of the few countries that did not require a good level of the local language.
3- What is the main reason that led you to become a volunteer/intern?
I graduated this fall and still wanted to travel and gain more working experience before starting the working life. I also want a work related to internationalization, so I thought that if is important to gain even more international experiences.
Tags:
bachelor
,
braziliancompany
,
brazilianculture
,
brazilianexperience
,
brazilianlife
,
brazilianngo
,
brazilianworkenviroment
,
company
,
exchangeprogram
,
experience
,
finnishabroad
,
foreignersinbrazil
,
fun
,
gapyear
,
intercambistas
,
internabroad
,
internship
,
internshipabroad
,
internshipinbrazil
,
lifeinbrazil
,
liveabroad
,
master
,
travel
,
work
,
workingabroad