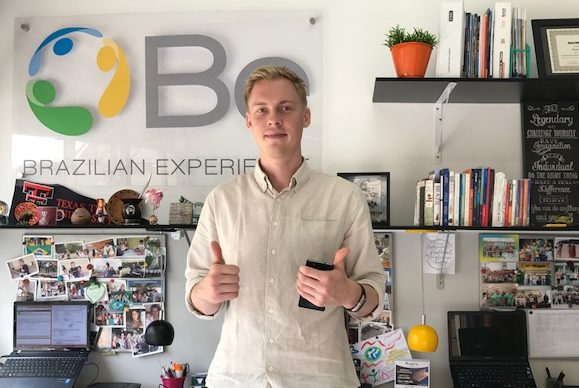 This week we welcomed our new intern from Finland, Juuso Koskela. He is an Economics student and mentioned on his arrival orientation that he is very interested in our culture and considers Brazil a country of opportunities.
Juuso is going to intern at our partner Impact HUB Curitiba, a collaborative business that focus on innovation and development of new ideas, he believes that will learn a lot during his time here. We wish him a great experience!
Come check it out Juuso testimonial!
BE: Why did you choose to come to Brazil for an exchange program?
I chose to come to Brazil because I wanted to experience a totally different culture and work environment than Europe. I also see Brazil as a future land and lot opportunities here. I wanted as well to learn Portuguese cause in Finland there is no one who speaks it so that could be my advantage in the future.
BE: How do you feel today that you are starting this experience? Can you describe your feelings? What are your expectations for the program?
I have faced the cultural shock and many things don't work like in Finland. Sometimes that is very frustrating and tires me. But I try to stay positive and think that all my experiences make me stronger for the future and I'm more able to face different situations and deal them.