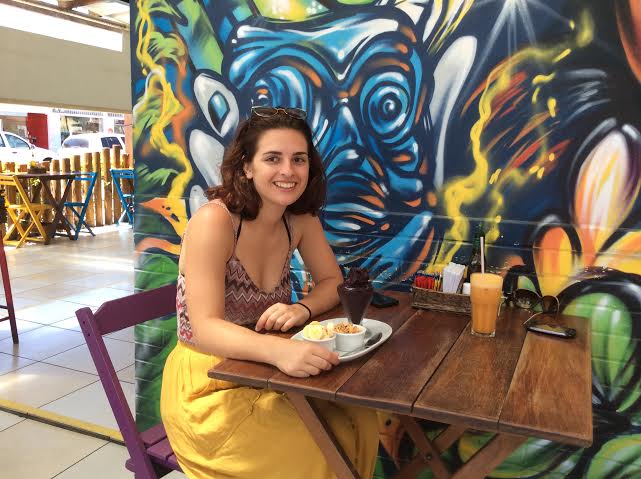 The future biologist Chiara from Italy did a volunteer at R3 Animal Association, a non-profit organization who has as mission to rescue, rehabilitate and reintegrate wild animals into their habitat. She spent a month here in Brazil taking care of marine animals and she even performed an autopsy in a whale. Now her adventure is over and we talked to her to know more about her Brazilian Experience. Check it out:
BE: What did you learn with this experience?
I learned many things with this experience. It wasn't my first time abroad but it was my first time traveling and living overseas. I started to understand and learn a new language, I succeed to adapt myself in different kind of situations and to find a solution to the everyday little problems. I learned to be patient because it's hard when no one can understand you and you don't understand anyone…I learned a way to communicate with people who speak a different language and have different dialects.
BE: What changes did you notice on yourself?
I think that I become more flexible: I've been living in other countries before but the culture wasn't too different from mine. Here I learned to be more patient and to live without many things I usually eat or use.
BE: What has the experience added to your resume?
As a future biologist I think that this project gave me a lot of practical experience that will be helpful for finding a job in this field.
BE: What did you like most about your project?
There were many things that I liked but I really enjoyed the possibility to work with marine animals because that's the field I love. I had the chance to see two whales (unfortunately dead ones) and to perform an autopsy on them, to take care of a baby dolphin and work with many marine birds as pinguins and seagulls. I learned many things and that's what I liked the most.
BE: Would you come back to Brazil? What motivates you?
Definitely. I don't know if I'll come back just as a tourist or if I'll come back to work and live here. I had some "bad" experiences here but nothing to bad and these experiences helped me a lot, to growth and to know me better. I met many amazing people here and I fall in love with Floripa. It has something special.
BE: Which advise would you give for students willing to join the same experience?
If you want to do this experience then just do it. It's really worth! You could have some hard times here since the culture could be really different from yours, but usually Brazilians are really nice people and willing to help you. Since I am here I've never felt alone. And be prepared to adapt yourself 🙂
BE: What was the highlight of your experience in Brazil?
Waking up at 5 a.m. to go to monitoring the beaches. Arriving in a desert beach and enjoying the calm and the wonderful landscape it's something I'll never forget.
BE: Would you recommend this program/experience?
Yes, I'd recommend it especially for biologist or all the people that loves animals and want to do something to rescue them.
BE: A word or a sentence in Portuguese to summarize your experience.
Muito legal!
Check it out some photos of Chiara here in Brazil during her experience:
Tags:
animals
,
be
,
brazil
,
brazilianculture
,
brazilianexperience
,
brazilianportuguese
,
culture
,
cultureexchange
,
curitiba
,
exchangestudent
,
exchangestudent homestay
,
experience
,
explore
,
florianopolis
,
fun
,
funinbrazil
,
gapyear
,
highschoolabroad
,
highschoolinbrazil
,
hostfamily
,
ig_brasil
,
intercambio
,
internshipabroad
,
internshipinbrazil
,
jaguar
,
learn
,
learnportuguese
,
macaw
,
monkeys
,
parrots
,
portuguese
,
rio
,
socialtravel
,
travel
,
travelabroad
,
traveltohelp
,
traveltolearn
,
volunteer
,
volunteerabroad
,
volunteerinbrazil
,
volunteering
,
volunteeringinbrazil
,
wildlife
,
wildlifevolunteering
,
work